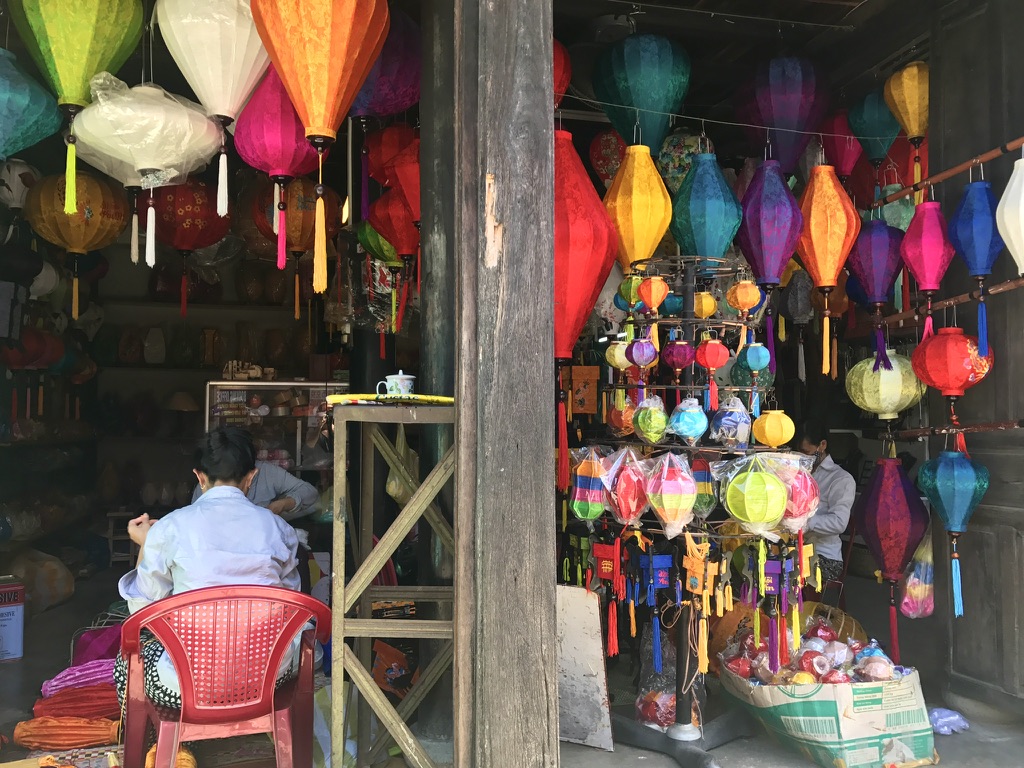 Step back in time at Vietnam's Hội An Ancient Town
When arriving in Hội An it's hard not to be charmed by this delightful place. Wandering through the incredibly well-preserved Ancient Town is like taking a step back in time. From the 15th-19th centuries, it's location near the Thu Bon River made Hội An an important Vietnamese trading port for silk, porcelain, pepper, cinnamon, and medicinal plants. The effect of different cultures visiting are reflected in the architectural features of the town. You'll find an interesting mix of Vietnamese, Japanese, Chinese, and French influences. They combine to produce a unique heritage site which was recognised by UNESCO in 1999.
WANDER THE STREETS OF THE ANCIENT TOWN
Spend the day wandering the streets and canals of Hội An Ancient Town. The town is easily explored by foot or bicycle and no cars are allowed in the historic area.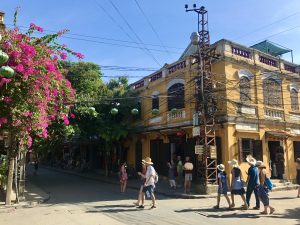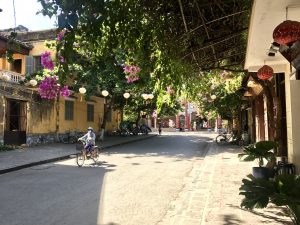 Teaming with beautifully restored shops, temples and houses you'll find a wooden Chinese shophouses alongside colourful French colonial buildings and Vietnamese tub houses. Most of the old shops have been converted to tourist businesses, including countless tailors, souvenir shops, art galleries, cafes and restaurants.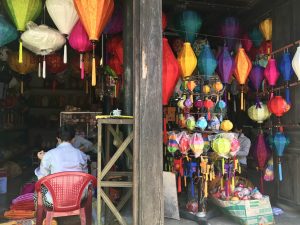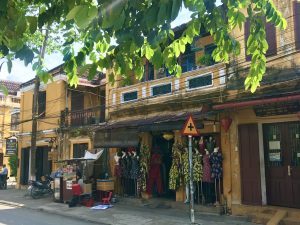 See colourful lanterns being made before they light up the streets at night. Do some souvenir shopping. And remember, if you need something tailored in Vietnam, this is the place to get it!
HộI AN RIVERSIDE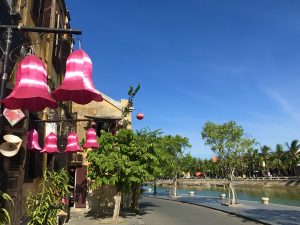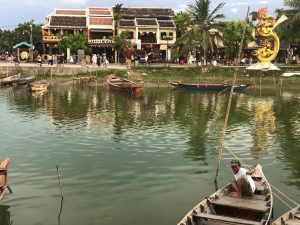 A prominent stop for foreign traders between the 15th and 18th centuries the riverside is now it's best known for its vibrant bars, cafes, and restaurants. Here you'll find anything from high end European fare to budget-friendly Vietnamese street food. Plus plenty of fresh seafood, beers, cocktails, coffee, and cakes.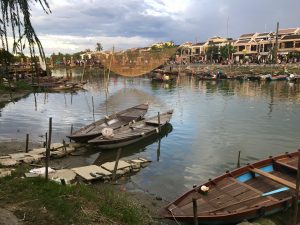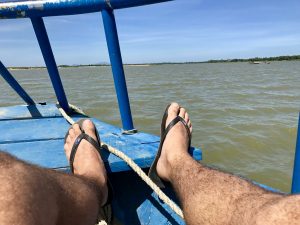 To make the most of the river there are plenty of local boats to charter at the docks, which you can hire for a day of fishing or cruising along the tranquil river.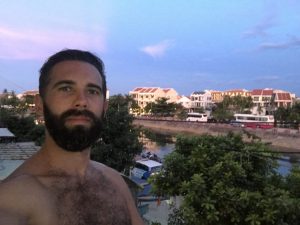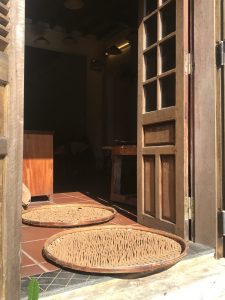 I stayed at for a couple of nights at the Hội An Canal House Villa (now Le Pavillon Hội An Central Villa) just a short walk from the Japanese Bridge.
THE JAPANESE COVERED BRIDGE (Chùa Cầu)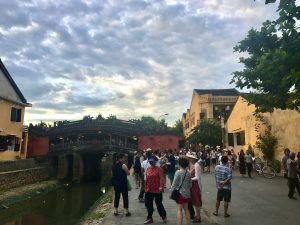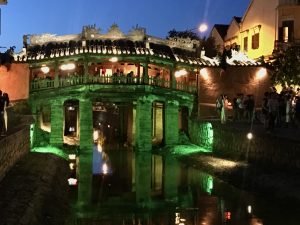 The Japanese Covered Bridge dates back to the 18th century. It is said to have been built by the Japanese as a way to reach the Chinese quarter across the water. Spanning 18 metres in length is one of the most prominent attractions in Hoi An Ancient Town.
In 1719, Lord Nguyen Phuc Chu officially opened the bridge by carving 3 Chinese symbols above the entrance. The Japanese Covered Bridge also features intricate sculptures of 2 dogs and 2 monkeys to represent the birth years of prominent Japanese Emperors.
CYCLE THROUGH THE RICE FIELDS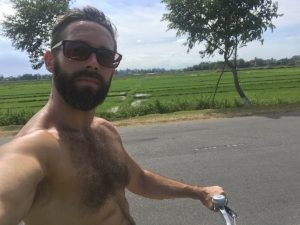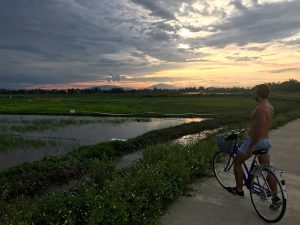 Outside of the Ancient Town, two-lane roads slice through the rice fields and one of the best ways to explore them is by bike. Many hotels have free bicycle hire included in the rates so it's definitely worth taking advantage of. But keep in mind that days can get very hot so sunrise or sunset are good times when it's a little cooler. If you're lucky you'll find water buffalo flicking their tails among a sea of green rice fields.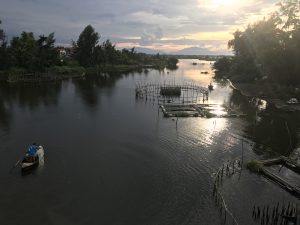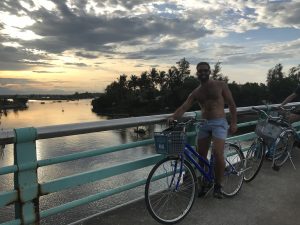 RELAX AT THE BEACH
Just a 15 in drive from Ancient Town (or as I did a longer bike ride), you'll find stunning beaches to escape the heat and bustle of the ancient city.
CUA DAI BEACH
Boasting a 3-km stretch of white sand and gentle waves, this beach is relatively quiet most of the time. Be sure to check out the basket boats or thung chai, which trace their history back to the French colonial era. When the French arrived in Vietnam they introduced many taxes, including a tax on the ownership of boats. Poor Vietnamese fishermen, who depended on boats for their livelihood, could not afford to pay the taxes, so they invented this new type of boat.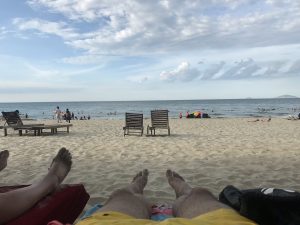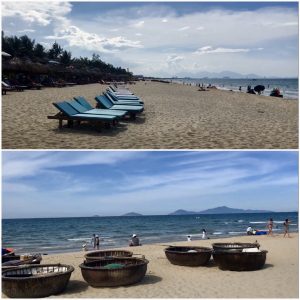 AN BANG BEACH
This beach has many beachfront resorts, seafood restaurants, and relaxed bars with stunning views. Relatively unspoiled by development, it's a great spot to enjoy swimming, paddle-boarding, or just relaxing on rented sun loungers.
CHECK OUT THE NIGHT MARKETS & LANTERNS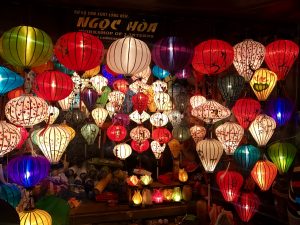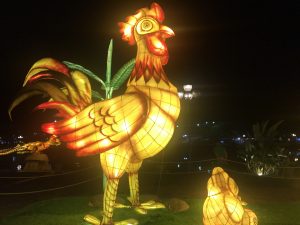 At night the Ancient Town comes to life with lantern lit bridges, streets, pagodas and verandas.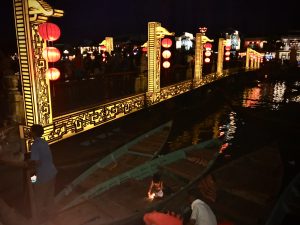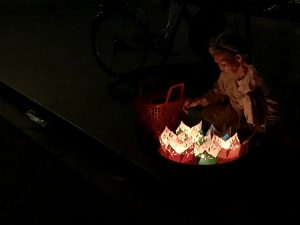 Night markets pop up along the riverside, music, laughter and scents of delicious food fill the air. It's magical and romantic and not to be missed.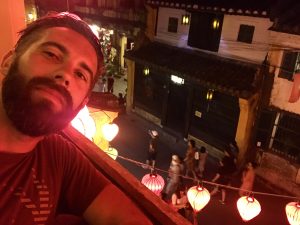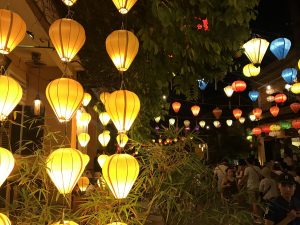 I highly recommend Morning Glory Restaurant for some of the most delicious food I had in Vietnam.  So good I went back two nights in a row. If you make it, ask for a spot on the balcony. It's the perfect place for people watching and enjoying the lanterns.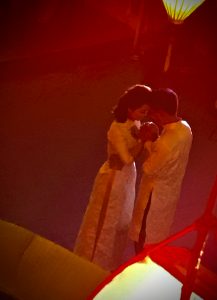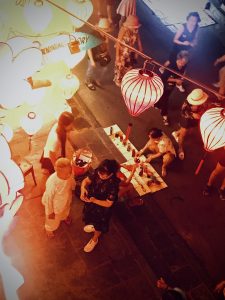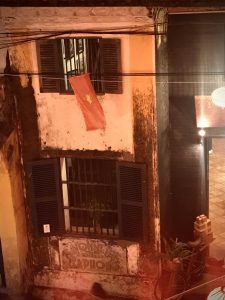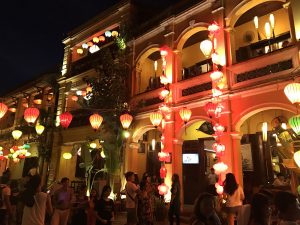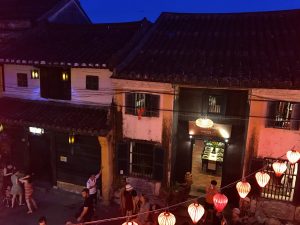 MY SON SANCTUARY
Just 40km from Hội An is My Son Sanctuary. A UNESCO Cultural Heritage Site dating from the 7th to the 13th century.  READ MORE HERE