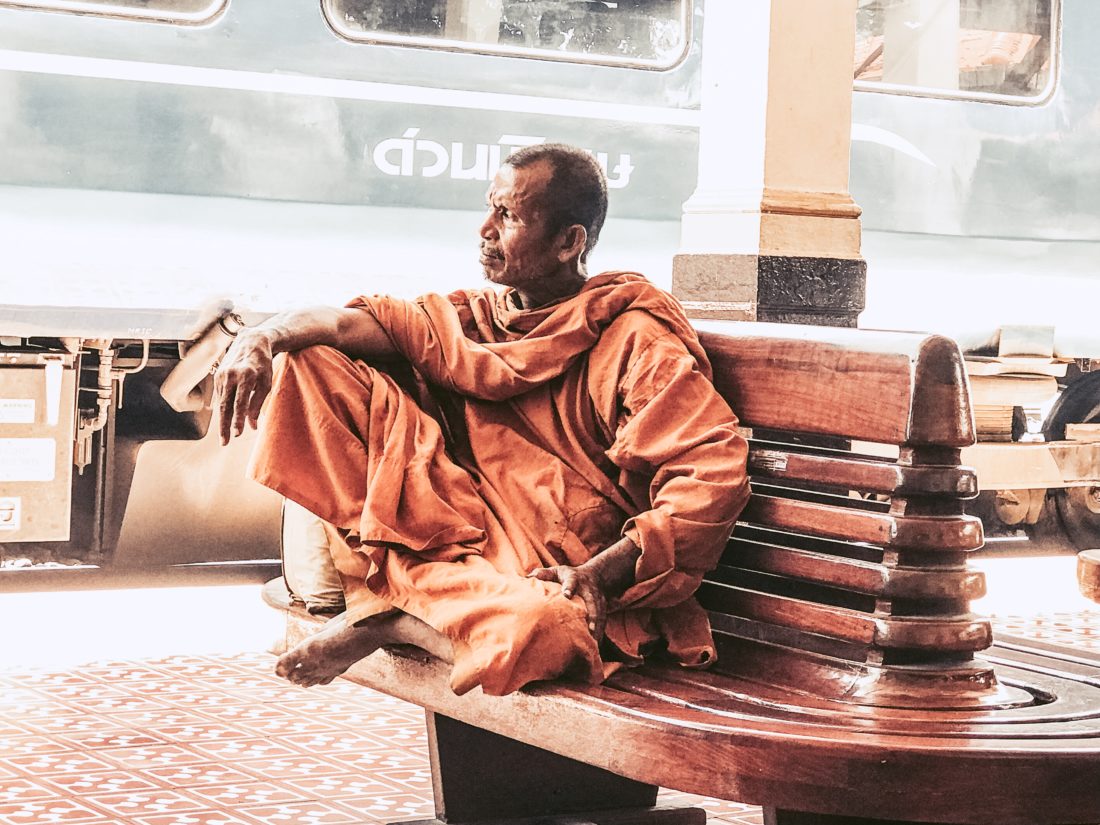 Chiang Mai to Bangkok by Train – The Old World Charm of Thailand's Railways
I love taking the train. I always have. Ever since my first long distance return train trip from Hamilton to Wellington, a trip I took many times in my youth. My Grandpa loved trains too. We watched documentaries about famous train journeys and historic railway constructions and he would recount his rail adventures, often finding himself up in the conductors carriage.
Old World Romance
There's something romantic about long distance train travel. The history, the constantly changing landscape, the permission to just sit back, relax and take in the journey without concern for time, traffic or route. However, with cheap flights, overnight buses and minivans in high demand, train travel in Thailand has lost its appeal among today's travellers and tourists, which is all the more reason why I decided to do it and why you should to. It's a fantastic way to get between destinations, take in the scenery and reconnect with your soul.
Chiang Mai to Phitsanulok
I woke early and packed my bags (which I'd planned to do the night before but passed out with a food coma from sampling too much at the Chiang Mai Sunday Night Market!) and headed to the main street to flag down a red songthaew taxi. After 10 minutes in the taxi, the child in the front was dropped at school and I was right back passing the same place I'd hailed it! Oh Thailand! I love you! Nonetheless, 50baht later, I arrived at the station in time to secure a seat from Chiang Mai to Phitsanulok (Cost:470b – tip: buy your ticket at the station as online prices and tourist agents can be over 200b more expensive for the same seat) and have a quick bite to eat before settling in for the 5 and a ½ hour journey to my first destination.
Chiang Mai Railway Station was like something out of an adventure novel, slightly run down but with an old-world colonial charm. Carved wooden signs in English and Thai pointed the way, monks in bright orange robes shuffled with their meagre possessions towards the train, immaculately dressed guards saluted and smiled as I passed and a feeling of adventure and freedom lingered in the air.
The Number 8 Train
Boarding the #8 train* I found carriage 2, seat 10 easily and despite broken footrests, ripped seat covers and a tray tables stuck at a 45 degree angle everything was as you'd expect on a cheap train in Southeast Asia.
(*The #8 2nd class train is the one I'd recommend for day travel between Chiang Mai and Bangkok – not only is it the quickest train but all carriages have great aircon and the daylight hours ensure maximum window gazing time)
The station attendant waved his green flag, the train trumpeted it's farewell and we were off, greeted almost instantly by vast green vistas, rice paddies, rolling fields and mountains sprinkled with glimpses of ornate temples and humble farmers homes.
Small stations we passed were neatly presented with guards at attention, each with their own charm. It was clear that the workers and towns took much pride in their railway stations; one had a miniature clock tower, another old wooden buildings surrounded with flowers, a pack of dogs running up and down the platform among thousands of butterflies welcomed us at the next.
Unexpectedly for the price we also received a meal of fish curry, chicken and rice as well as a tea/coffee service with a snack of what I'd describe as 'delicious mini pineapple sausage rolls'. After much reading, napping, eating and admiring the view we arrived right on schedule in Phitsanulok.
Phitsanulok to Sukhothai
(Note: there is no train station in Sukhothai so you must buy a ticket to Phitsonulok and then take a bus. It is definitely worth the extra effort and a great place to break up a long trip as it's roughly halfway between Chiang Mai and Bangkok)
On arrival in Phitsanulok I was met outside the station by an army of tuk tuk drivers jostling for business. Before I knew it I was loaded into the back with my pack and en-route through the colourful bustling streets of one of the oldest cities in Thailand (over 600 years old) to the bus station. The bus was easy enough to find, I secured my 40 baht seat with no need to pre-book. With hardly a chance to blink we were off on the 1hr journey to Sukhothai.
On arrival I fell into a tourist trap. Opportunistic tuk tuk drivers pounced the second I stepped off the bus and took me on a highly overpriced ride to the closest cheap hotel.  Thankfully the place was comfortable and good value.  I checked into a room for two nights to explore the capital of the first Kingdom of Siam, the historical site of Sukhothai.
(Tip: Don't let the name fool you 'Poo Restaurant' on the main street has delicious food – some of the best I had in Thailand! Also make sure you check out the night markets for a real local experience and great food)
__________
MORE ABOUT THE ANCIENT CAPITAL OF SUKHOTHAI COMING SOON…
__________
Sukhothai to Ayutthaya
Learning from my expensive tuk tuk mistake, I took a closer look at the map and realised my hotel was just around the corner! So after checking out from the hotel I set off on foot down a dirt road and along the river to begin the next leg of the journey. I was greeted outside the station by a smiling lady who somehow knew exactly where I was going.
Everywhere in Thailand it seems that somehow, someone always seems to know where you are going and will make sure you get there. "Go there!", points finger, yells, "Farang!" and just like that the responsibility of looking after the befuddled tourist is passed on to the next person until you magically arrive at your destination. It seems like disorganised chaos at the time but you always arrive exactly where you are meant to be and everyone along the way knows where to send you. Being the only "farang" (A foreigner in Thailand, usually of Western ancestry) in these situations obviously helps. It makes me wonder about the terrible level of service back home and how difficult it must be for foreign travellers to get around without the same friendly, attentive help.
My bus back to Pitsanulok Train Station was actually a minivan where, bags and all, we were all jammed in like sardines and off on the road, with the driver making stops for deliveries, shopping and drop-offs along the way! Then another tuk tuk to the station where I waited for the next train to Ayutthaya.
I caught the same #8 train that I had jumped off 2 days earlier and continued on to Ayutthaya. Unfortunately, as the train picks up and drops off passengers en-route, there were no window seats. It's best to book in advance if you want specific seats or are travelling with others and want seats together. The train rolled up into Ayutthaya at around 6pm and I hailed yet another Tuk Tuk to my accommodation; a run down but fanciful local house converted by a lovely family into a homestay. After a quick meal I settled into bed ready to wake at dawn for another two days temple hunting!
__________
MORE ABOUT THE ANCIENT CAPITAL OF AYUTTHAYA COMING SOON…
__________
Ayutthaya to Bangkok
After a week exploring the ancient capitals of Thailand I was all templed-out and ready to explore the modern capital. At Ayutthaya Station I people watched from a platform cafe while awaiting my final train to Bangkok.  This time I opted for an unbelievably cheap 3rd class train, only 15baht for the 2 hour train journey. It was much more of an authentic experience than the other trains and worth roughing it for the short journey. I shared a 4 seat booth with local travellers. Along the aisle vendors jostled for business selling food from snacks to curries and rice, drinks and trinkets. The rattly old train chugged on down the rails passing fields, towns, construction sites that would be an OH&S nightmare in Australia, unfinished highways and workers shacks littered along the tracks.
This train also stops at Don Mueang Airport which is handy if you're catching a flight. I continued on to the last stop at Bangkok's grand Hua Lamphong Railway Station. There I followed signs to connect to the MRT into central Bangkok.  The invigorating assault on the senses hits you the moment you step off the train! Heat, noise, smells, chaos and crowds… This Asian mega city is certainly not a destination for the faint-hearted but as the song says "One Night in Bangkok and the world's your oyster!"
MORE ABOUT BANGKOK COMING SOON…
If you have the time, ditch the plane for the train and sit back to enjoy a taste of old world charm. I'm looking forward to the next great train journey I embark on.
Until then… safe travels,
Mikey x
USE THE BUTTONS BELOW TO SHARE ON SOCIAL MEDIA